Well, not quite true... I made one hand, and a tutorial: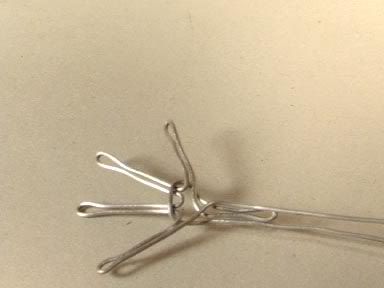 And here's the promised writeup about the problem I discovered with the thread-wrapped wire method of armature construction.
See... this pic shows the most comfortablest way for three wires to nestle together.... the cross-section would look triangular. And I've found three 1/16" Almaloy wires is a perfect combo for most parts of the puppets I'm making. The triangular configuration is a thing of beauty and much economy.... it's the way they naturally want to lay anyway when you start wrapping... it's a lot harder to get them to lay out side by side (flat cross-section like a ribbon).
BUT
... Here's the problem with it. All I did was bend the wire-thing here, and see what happened? The wire that was behind the other two popped out between them, and now it's gone from triangular profile to flat profile. This is what happens inside the puppet when you bend a joint if the wires were in triangular configuration to start with... and to complicate matters,
even if you originally made it in flat configuration, it will shift from handling
. In other words, it's constantly shifting between the two configurations...... and this causes stress. I can tell by the popping sound I hear when it happens! At first I didn't know what was going on... I though something was breaking, but obviously nothing was.... so I examined it closely and bent it back and forth a few times, and then I saw it happen. See, the problem is that when the wires are in triangular configuration and you bend them, the wire in the back would need to stretch... or else pop through between the other two. When you go with the good old fashioned twisted wire method, they're sort of springlike, so the back one actually
can
stretch a bit, and the front ones can compress a little too. Crazy stuff!
This doesn't mean the thread-wrapping method is crap or anything... it's just a different alternative. I believe both methods have their strengths and weaknesses (a bit too tired to pontificate any deeper on it right now). And the popping-through thing doesn't jhappen all the time, possibly it's only on certain joints depending on how they were made, I'm not sure. It's just something I noticed and wanted to share.