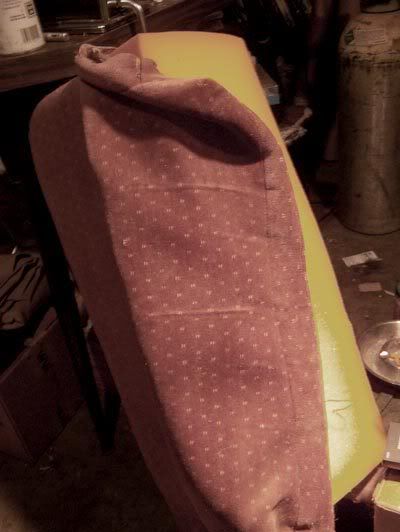 A little
foamlore
® today kiddies. Here's my quarry - an old sofa cushion I've been mining for many years - all the puppets I've made since Ahab came from this massive chunk of fluff.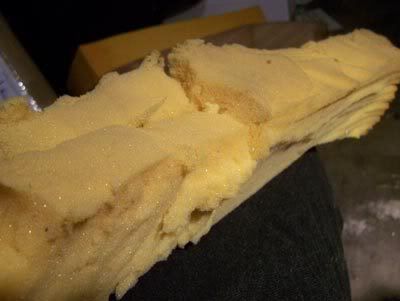 But as you can see, it was getting a bit ragged. It was great having such a big piece of foam, but I didn't have a decent way to cut off slabs from it. I used to just attack it with scissors, saws and knives and basically rip chunks from it - about as precise as a shark attack. Witness the results above.
But tonight the Thanksgiving Butterball came to the rescue - a strange ally in my ongoing pupetquest. I discovered my mom has an electric knife! Where that thing has been kept I couldn't say... I never knew she had one, but out it came along with the good china and monstrously huge dinner platters that come out only once or twice a year (and that I got to wash along with the other menfolk this year..... ). Seeing it triggered memories - I had read somewhere on some vast black message board that such a knife is perfect for cutting foam cleanly - so I appropriated it and whisked it away to the Darkstudio under the pretext of fixing the latch, which is hard for her senior hands to open easily. It took me all of two minutes to X-acto away a little sliver of grey plastic and fix the latch, and then the fun began.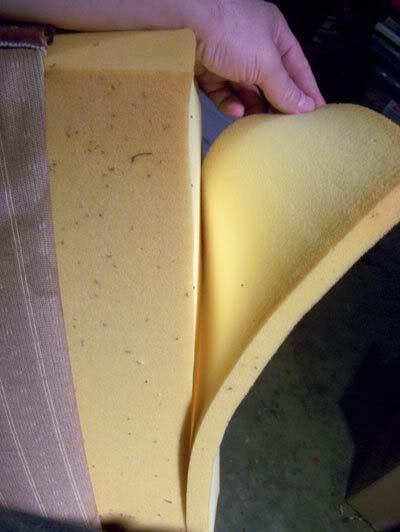 Clean as a whistle!!! (a saying that has never made sense to me.... maybe a brand new whistle is clean, but after a while they get filled with all kinds of saliva reside.....)
Now I have a nice stack of neatly sliced foam slabs! It actually took me about two hours to cut all these pieces because the knife gets really hot. It's not used to so much stress for a prolonged period - it takes maybe 2 minutes to cut all the way through the entire cushion, and by that time it's hot and needs to cool off for a half hour before making the next incision. I don't use electric things when they're hot anymore, ever since losing my first Dremel that way.
And here's some
Deli-Sliced
® foam too - otherwise known as
Athletic Pre-Wrap
. It's also known as UnderWrap in case you're looking for it locally. It's used underneath tape when athletes wrap parts of their anatomies. But I know a better use for it - shaping puppets and wrapping their tiny little limbs.
Here's how I use these two foamslices in conjunction to form puppets. Above I've (crudely) fashioned what I term a foam
Bodytaco
for Huck (from back in November 2006 - wow, have I really been working on these guys for over a year now!!!???). A little spritz of spray adhesive is what attaches the foam to itself and to the armature.
Then I shape with scissors as closely as I can, which leaves a kind of bulky semi-formed puppetbody.
And finally I wrap that with the underwrap, using little dabs of
Barge flexible contact adhesive
at each end to secure it. It's nasty, stinky, toxic stuff, but it's the preferred adhesive among puppetsmiths. The underwrap can compress the cushion foam where needed, like for waists, and build up form in areas like hips or chest. You can cut it into strips and fold them over if you need to. For arms and legs that will be covered with clothing you can just use it alone, no cushion foam needed.
I've also devised a technique of sculpting forms from liquid latex and cabosil to make implants (like for Veronica's boob job) that can then be Barged on and wrapped in place to give further shape.
Ok, well Kiddies, I hope you've learned something today. Fabbin' with Foam can be Fun!!!