They're all dressed now, aside from a few accessories here and there (plus hands and feet for the littlest one Cindy Lou). As I went they just kept getting brighter and more colorful. Shelley, you might recognize some of the fabric I used on the last 2 puppets... you sent it to me.
I'm developing puppet personalities for them, and complex relationships/dysfunctions, as well as working on a lighting technique that minimizes the slight shininess of the heads and makes the faces fully visible in spite of the extremes of light and dark on them all. Looks like my best bet will be a pretty diffused "cartoon" lighting setup, mostly reflected light.
... Here's a pictorial tutorial on how I've been making the clothes lately....
First I cut the cloth to size and tape it to something for spray adhesive treatment. Note the blue Nitrile glove. Give it a pretty heavy coat of spray adhesive. I do this part outside.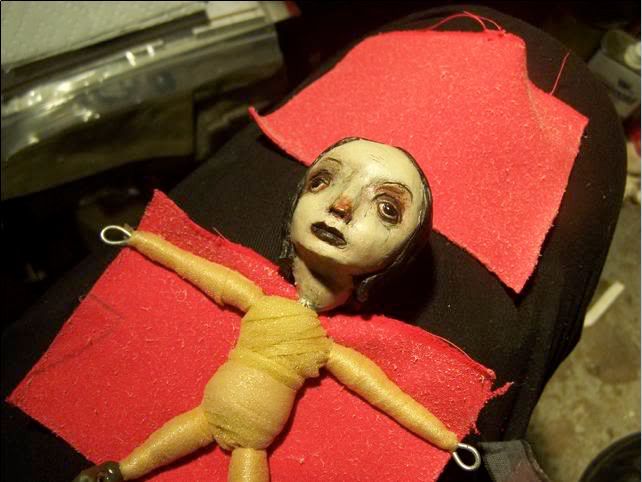 Here I'm pressing Cindy Lou against the back part of her costume.
And pressing the front part into place. Care is essential. I press tightly all around the puppet, trying to get the seam line as tight as possible. I do this for a while, hoping the adhesive will do its work well. If anything comes apart later I can always fix it up with some Fabri-Tac though.
Here she is well into the trimming process. I found this velvet stuff very hard to cut. It also doesn't stretch, so it's pretty unforgiving stuff to work with. Note how I handled the collar... I made sure to put a wrinkle in the right place so it ended up looking like a mock turtleneck. It still needs more trimming though, and I'm not sure I can get as close as I want to. Maybe the dremel with a sanding drum.... ?
Cindy Lou is a little older than in her former star turn (in How the Grinch Stole Christmas)... she's turned in her pink sleeper for a red jumper and gone Goth.
What I'm learning is that puppet clothes don't need to look realistic... in fact it's best if they're not. Stylization suits them well.