Getting a feel for how the stools will fit into the decor. A little tall --- standers-by need to look up to talk to the seated, but I do like the way their tiny little legs dangle so comically. Imagine the difficulty for them, climbing onto one of these! Oh, and click the above pic to see it in megagigantic size at Flickr. I don't know, I MIGHT have to make shorter stools....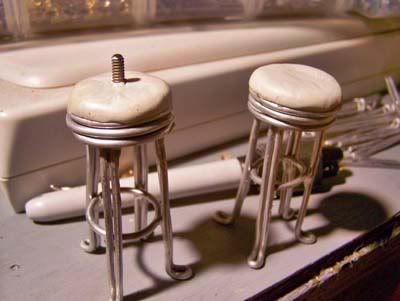 Then a little blob of 5 minute Fasteel epoxy putty with a cut-off 6-32 screw stuck in. This is a purely structural layer, to be covered by the cushion when we arrive at the upholstery station. 
Final assembly and cleanup. Seat cushion made from 20 minute Kneadatite A+B epoxy putty (gives me more time to sculpt it, plus a better color to paint later). The ring is hotglued to the legs on the underside, where it hopefully won't show, and the gap is hidden behind one of the legs that will be in the front. And we're done. Total time, about 1/2 an hour. Schaaaa-weeeet!