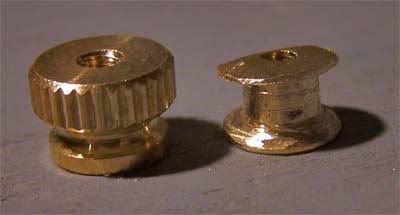 Yes friends, it's time once again to geek out over minute details that most people would never even notice, but that mean all the difference in the world to a stopmofo! Here you see my latest - and most successful - attempt to grind down a 4-40 thumb nut into the smallest, most essential piece it can possibly be to function as a foot in a puppet. Comparison with an unground nut above. It's necessary to widen the channel this much so I can fit two strands of 16 guage wire in there, and to me that's the minimum for good solid attachment. I've heard of people drilling into small blocks of aluminum or brass and threading a tie-down hole, then drilling another hole to epoxy the leg wires into, but I just don't like to rely on nothing but an adhesive --- especially for such a critical joint. The ankle has to bear all the weight of the puppet and at some extreme angles to boot! 
Another size comparison, this time including Tom's foot (made from an unmodified 6-32 thumb nut). This design is much more compact.... and I think I can just put a little bead of JB Kwickweld into the channel before wrapping the wire in place.... doing away with all that excess grey matter that bulges out on the sides and makes the foot so much bulkier. Here you can see that two wires fit nicely after grinding. That means I can use 3 or 4 leg wires and they'll all be firmly attached. In fact, the only reason I'll really need any kind of adhesive is to keep the nut from being able to spin. 
A shot from underneath... dig the nifty funnel shape that helps you get the end of the tie-down screw in place as you fumble around there under the table.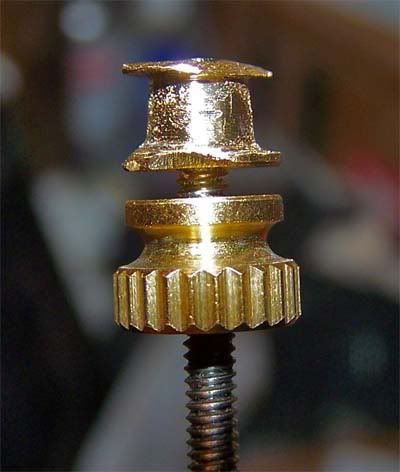 Looking at this shot, I see I could remove a good deal more brass before having to worry about hitting the threading - but that would be a lot more work for little added benefit. I now feel like this piece of brass is as small as it can be.... the perfect functional foot piece. All there is now is a sleeve of brass that's threaded inside with a slight flange at top and bottom to help hold the wires in place. It's hard to imagine a different design that would be as effective (at least to me, with my fetish for always making a good solid physical connection that's then just aided and abetted by some adhesive). It takes a surprisingly short amount of time to do this really... I was expecting a lot more effort and time spent, but when I did a few and got my techniques figured out, it only takes about 10 minutes (part of it is hand filing with a round file to make room for the Dremel grinding stone, which won't fit otherwise).