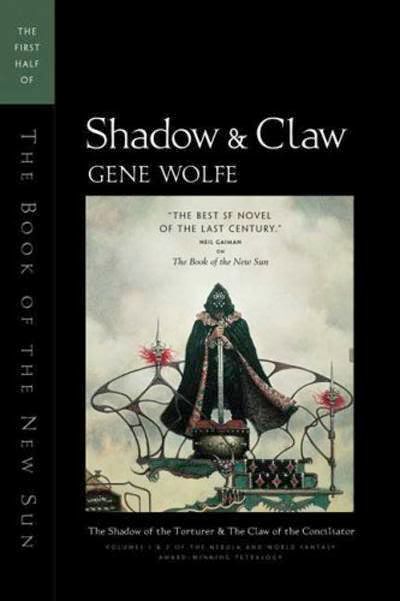 Tonight I was trolling around the web, trying to find authors similar to Gene Wolf (huh...
RIGHT!
As
IF!!!
) when I suddenly and quite surreptitiously ran across
this lengthy and absolutely astonishing interview
with the man himself. (The link is also posted at the end of this - um - post!) Let me put this into perspective (if that's possible)....
It's been probably a little over a year since I discovered Wolfe and read the massive Book of the New Sun. I count it as THE highlight of my reading career, and I'm still stunned and amazed by the sheer inventiveness and audacity of that series. The intelligence, the subtle and perceptive grasp of human nature and of the nature of reality and the universe.... in other words, things you seldom find in genre writing (which Wolfe's work most definitively ISN'T, though with their penchant for labeling, bookstores are forced to put him in with the sci-fi and fantasy authors - he fits in with them about as well as Shakespeare fits in with
soap opera writers
).
And now I feel like I've already found the very best.... there's basically no chance of ever topping his work. Since then I've been WANTING to find authors that exist at that dizzying pinnacle... TRYING to, and despairing of it ever actually happening. I've made a few really excellent finds in the attempt, such as Paulo Bacigalupi, Ted Chaing (who's book Stories About Your Life and Others I just picked up and am enjoying immensely), and David R Palmer, who's story Tracking was serialized in three recent issues of Analog magazine and soon to be printed as a novel, along with the long out-of-print Emergence, to which it's a sequel. But really they don't stand up to the comparison. The only authors I've read extensively who do would be J G Ballard and Angela Carter for their immense ability to create self-contained worlds of pure bravura imaginativeness (if that's even a word).
Incidentally, it occurred to me after making that recent post about what I'm reading that this imaginativeness, this ability to CREATE a thematically-unified world that isn't just a copy of drab reality is the unifying thread that binds together all my favorite authors, including even my earliest such as Andre Norton and Keith Laumer, who I mentioned in that post as writers of (somewhat) standard narrative fictions (as compared to the more
poetic
writers that post was mainly concerned with).
Wow, sorry, I don't mean to run to such loquaciousness.... let me try to cut to the chase.
In this long interview, Wolfe explains that his fiction is essentially the OPPOSITE of genre science fiction.... that rather than create little worlds where characters can act out simplistic ideas, he weaves a dense tapestry filled with intertwining concepts that cover pretty much the gamut of human thought... with an especial consideration for the more profound, such as language and how it shapes thinking and character, memory (and in particular memories of memories... ) why monsters are really US, and the unreliability (relativity) of narrators for various reasons. He says there's no separating form from subject... they interpenetrate and create each other in a symbiotic relationship.
... And as I was reading, it suddenly occurred to me that his ideas are very similar to those of the Absurdists, who's theories I recently wrote about. But I Must say, I vastly prefer reading his books to watching the plays of Samuel Beckett or the rest of the gang.
Following are a couple of excerpts from the interview to whet the appetite:
Larry McCaffery: Could you discuss what sorts of things have drawn you towards writing SF? Do you find there are certain formal advantages in writing outside the realm of "mainstream" fiction, maybe a freedom that allows you more room for exploring the issues you wish to develop?



Gene Wolfe: It's not so much a matter of "advantages" as SF appealing to my natural cast of mind, to my literary imagination. The only way I know to write is to write the kind of thing I would like to read myself, and when I do that it usually winds up being classified as SF or "science fantasy," which is what I call most of my work. Incidentally, I'd argue that SF represents literature's real mainstream. What we now normally consider the mainstream—so called realistic fiction—is a small literary genre, fairly recent in origin, which is likely to be relatively short lived. When I look back at the foundations of literature, I see literary figures who, if they were alive today, would probably be members of the Science Fiction Writers of America. Homer? He would certain belong to the SFWA. So would Dante, Milton, and Shakespeare. That tradition is literature's mainstream, and it has been what has grown out of that tradition which has been labeled SF or whatever label you want to use.



LM: That's why I began by asking if you weren't attracted to the freedom offered by SF—it's only been since the rise of the novel in the 18th century that writers have more or less tried to limit themselves to describing the ordinary world around them....



Wolfe: It's a matter of whether you're content to focus on everyday events or whether you want to try to encompass the entire universe. If you go back to the literature written in ancient Greece or Rome, or during the Middle Ages and much of the Renaissance, you'll see writers trying to write not just about everything that exists but about everything that could exist. Now as soon as you open yourself to that possibility, you are going to find yourself talking about things like intelligent robots and monsters with Gorgon heads, because it's becoming increasingly obvious that such things could indeed exist. But what fascinates me is that the ancient Greeks already realized these possibilities some 500 years before Christ, when they didn't have the insights into the biological and physical sciences we have today, when there was no such thing as, say, cybernetics. Yet when you read the story of Jason and the Argonauts, you discover that the island of Crete was guarded by a robot. Somehow the Greeks were alert to these possibilities despite the very primitive technology they had—and they put these ideas into their stories. Today it's the SF writers who are exploring these things in our stories.


Wolfe: It's the hackneyed notion: "The medium is the message." As I work on a story, the subject matter often seems to become an appropriate means of telling it—the thing bites its tail, in a way—because subject and form aren't reducible to a simple "this or that." "That" and "this" are interacting throughout the story. That's what I meant when I said I'm trying to show the way things really seem to me—my experience is that subjects and methods are always interacting in our daily lives. That's realism, that's the way things really are. It's the other thing—the matter of fact assumption found in most fiction that the author and characters perceive everything around them clearly and objectively—that is unreal... Fiction that doesn't acknowledge these sorts of interactions simply isn't "realistic" in any sense I'd use that term.
... and a link to
the entire thing
. For anyone who's interested in writing IN ANY FORM I cannot recommend this highly enough!!!