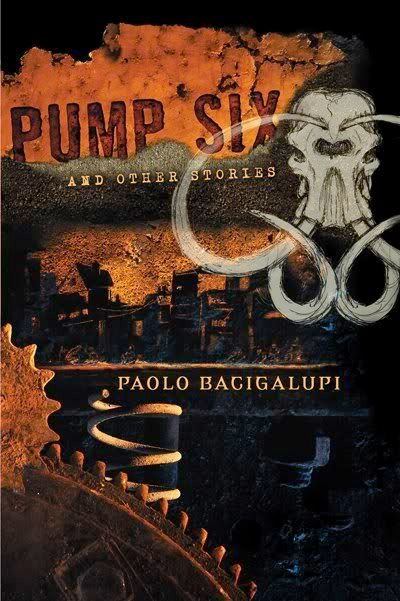 I don't often blog about my reading habits aside from my research into animation and filmmaking technique, and I thought it was about time I did just that. Especially since I just got a serious jump-start from a story called Pump 6 by Paulo Bacigalupi (still trying to learn how to spell/pronounce that nomen!)
My favorite has always been the sci-fi/fantasy stuff, starting with the action/adventure type when I was a kid (Kieth Laumer, Andre Norton and Fritz Leiber being my then-favorites) and progressing on to more surreal/literary/poetic stuff like
J G Ballard
,
Angela Carter
, and Will Self. One scribe I DID blog about a while back was Phillip Pullman, author of the His Dark Materials trilogy, which was so exciting to me that it influenced the name of this blog (it was about a mysterious substance known as Dust,
AKA
Dark Matter
). 
In one sense, Pullman fits neatly into the first group of authors I mentioned above, because his writing is fairly straightforward narrative style... no playing with timeline or identity, or messing with the reader's head. Just good, exciting, well-written storytelling stuff. But after my recent delving into poetic film and Theater of the Absurd, I now realize that most of the authors I have taken to in recent years fit into the second category.... a sort of dreamlike approach that dispenses with the conventional Aristotlean approach and instead opts for a much more Modernist approach that fits better into a post- Freud/Einstein/Van Gough world. 
One of my most amazing recent discoveries in this
poetic fiction
field was John Gardner's Grendel, recommended to me by my old Germanic
freund
Thomas Heiss. Definitely one of the most amazing reads I've ever experienced.... it's the tale of Beowulf told through the eyes of the monster Grendel. For me --- though it's completely different in form, this stands on a level alongside the Middle Earth books by Tolkein. And not much else does that! 
So, finished with that intense but all-too-short novel, I hungered for more that would satisfy my newly-acquired taste for this kind of work. Something that would stimulate the deeper centers of the brain, not just appeal to the whiz-bang kid in me. Something that, while still definitely fantasy/sci-fi (and hence not
DEADLY DULL AND BORING
, as
social fiction
tends to be) still managed to make you think and seemed to touch on deeper levels of reality than a Stallone movie. In fact, movies make a good analogy.... you could say I had developed a taste for books akin to Mulholland Drive or Pulp Fiction rather than -- well --- a Stallone flick. So I decided to turn my formidable websearching skillz to this end, and what I emerged with was a series penned by Gene Wolfe called
The Book of the New Sun
(click it... it's his Wikipedia page, and it will lead you on a wonderful journey of discovery. Reading about Wolfe online is exceptionally revealing, and contributes a great deal to understanding his work).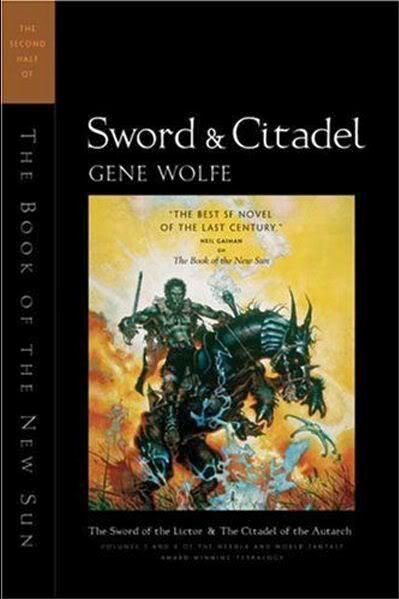 Intelligent writing, cheesy covers
It's about a guy named Severin, an executioner in a world that could possibly be Earth in the far distant future... or is it the unimaginable past? Or maybe an alternate universe entirely? There are remnants of past epochs of history transposed alongside elements of the far-flung future. The planet is called Urth, and society exists at a sort of Renaissance level... outposts of barbarism interspersed between vast wealthy city-states overflowing with sumptuousness and decadence. Mountain ranges carved by some unimaginable technology into the likenesses of monarchs... a fleet of grounded spaceships who's very purpose has been long forgotten, now serving as citadels for the Torturer's Guild. And what's really excellent about it is the supreme skill and subtlety with which Wolfe reveals these wonders.... he doesn't explain something when you first encounter it, but just presents it the way the characters see it... as something maybe mysterious to them, but familiar.
So it takes a few chapters before you suddenly realize that the metal citadels Severin stalks through as an apprentice torturer are (possibly) spacecraft, and nobody knows it! This was one of many slow-burn adrenaline rushes I got while immersed in this incredible world. And there are the caste of aristocrats that he occasionally mentions are tall, but it's not until well into the series that he reveals the (apparently well-known, so therefore unimportant) detail that they're all genetically modified, and are in fact all at least 7 feet in height! I love this method of gradual revelation, where in more pedestrian fiction all of this would be explained early in the book, or as soon as it appears in the story --- taking all the mystery and magic out of it.
It's so much more spine-tingling (and FUN) to discover these wonderful things rather than to be told about them by a
pedantic
narrator. (Hey, look it up if you don't know it.... and a hint... do the same as you read Wolfe's work.... he often uses little-known words from ancient history and learning what they mean brings a much deeper understanding and appreciation to his world).
Um..... where was I.... Wow, sorry, I didn't mean to spend so much time on the Book of the New Sun. But I suppose it's right, because really Wolfe represents a whole new strain of powerful, surreal, and very intelligent (but still exciting) sci-fi fantasy writers.
And the most recent one I've discovered who seems to have absorbed Wolfe's lessons and developed them in his own way is Paulo Bacigalupi (yes, I'm typing it out every time, hoping I remember it right). Ok, I'm running out of steam here.... there's more I'd like to say, but instead Ill just post this link:
Windupstories.com/pumpsix/the-people-of-sand-and-slag/
. Paulo has his own site, and on it. along with links to where you can buy his just-released book Pump Six and other stories (only available in hardback at about $15 now, the paperback should be following soon) AND.... for your convenience and edification --- yes, actual STORIES!!! Three of the stories from the book are available for free online reading or download/printing. I normally don't like to read stories online unless they're short (they are) and they really ROCK (they do). So go. Read. Be amazed. Consume product. Live long and perspire.
I also wanted to say that the story Pump Six is printed in this month's issue of Fantasy & Science Fiction magazine... that's where I found it. Available at newsstands and bookstores now.