I just saw Neil Gaiman's blog where he got the most awesomest, coolest Coraline Box of all... an actual Coraline animation puppet with cat!!!:



Ok, turns out this isn't actually one of the Coraline Mystery Boxes.... it's more a special gift for Neil as the author of the book from his friend Henry S. But it made me say $@#$!..... I WANT one of those!!!!

So a quick Google search turned this up: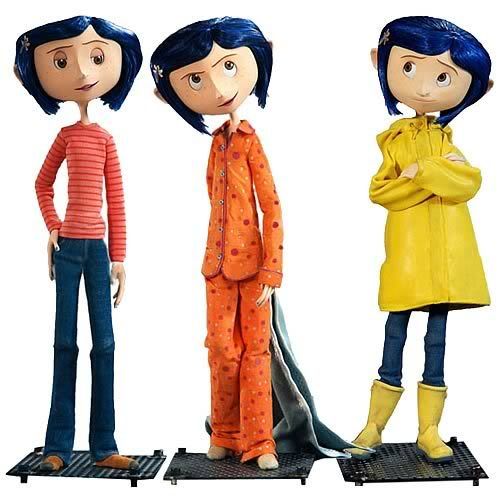 Entertainmentearth.com - Coraline Bendy toys


Coraline bendy toys!!! And look at what they're standing on.... makes them look like actual animation puppets. As if they have tie-downs. Hmmmm....

Well, I kind of doubt they really do though. That would just be TOO cool!! More likely these are pre-production pics of actual puppets, intended as a "suggestion" of what the actual toys will look like. I hope they don't suck... but these are made by NECA, known for some of the best toys in the industry. So I have high hopes.

I wonder how many of us big, manly animators are going to have these girly dolls standing around in our basements in January?? Playing dress-up with them? (they come with multiple outfits)

Weird, but they should be pretty animatable. And who knows.... they just MIGHT actually come with tie-downs already in the feet!!!

Ok, just found this -- apparently you actually get 3 different bendy toys, each with a different facial expression and different outfit and accessories. Kind of cool, but not as cool as interchangeable faces (and tie-downs!!).

***

Ok, Jeremy mentioned prototype bendy toys on Flickr, and here's what turned up:

Prototype Coralaine Bendy toy at ComicCon

This one has a selection of replacement faces -- we can keep our fingers crossed, but somehow I doubt the actual production version will have them. Seems like they would have mentioned it in the advertising on one of the sites I already linked to above.