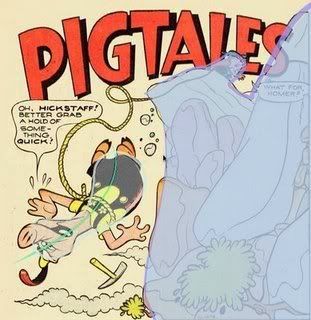 Recently I've been edumacatin' myself about traditional cartooning concerns via John K's Stuff blog:
Label=COMPOSITION
John K(ricfalusi) is the creator of Ren & Stimpy and other sick & twisted type cartoons. Not my cup of tea, but he's using his blog to educate a new generation of aspiring cartoonists from which he hopes tp recruit a stable of employees - and for that he uses examples from great cartoons of the past, both still and animated. And he reveals a vast wealth of knowledge about it. Pretty smart feller, he is!
The link is for all his posts about composition, which are the ones I've been absorbing. Exciting stuff for sure, and it makes me almost want to give up stopmo and turn to cartooning, which is the purest form of animation. Most of these principles can be applied only loosely to stopmo (unless you were to design a new set for each shot, or work out some way to substitute new elements each time you move the camera). There's a lot more latitude in drawing... you're not bound by reality as much as when you have to make things in 3 dimensions. But just being aware of these design principles can help you lay out your sets and work out a style for everything. It can also help you break out of boring visual styles (or lack of style).
In related news, I have finally managed to get a printer/scanner that actually works with my computer, so work on my film will be able to resume.