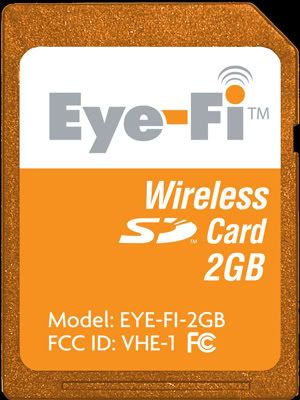 I've lamented before that the only real drawback of the Lumix camera is that it won't get full use out of Dragon because you can't upload the large images to the hard drive while also having the live feed attached. I think Mysterious Ron may have solved the problem. He emailed me tonight about this amazing new device called the Eye-Fi wireless SD card. You just stick it in the SD card slot and it automatically uploads your pictures to a folder on your hard drive ~ WIRELESSLY!!! How freakin' cool is THAT!!??!
Here's the website for the product...
www.eye.fi.com/products/
. Actually they now have 3 different cards.... the original (now called the Eye-Fi Share) uploads to both your computer and to the internet for sharing images on sites like Flickr or Picasa. That one costs $99. The Eye-Fi Home (the one we want) only uploads to your computer, and costs $79. Then there's some complicated one called the Explore that does crazy stuff like make toast and eggs. We don't need to do any Exploring while we're immersed in our studios.
It took me a while to find a store that carries the brand new versions... everyplace seems to carry only the original card. But finally Google turned up this site:
Eyefi Home card at Buydig.com
and I couldn't resist the temptation. Soon I'll know... though of course I guess I need to buy Dragon first!!! Come to think of it, my 10 day trial version will expire before it comes in. Though maybe I can get another trial to test it out.
Anywho, just thought I'd share. This could be revolutionary folks!!