Hey wot all....
About halfway through constructing a stand in puppet for a massive practice animation session. I'm afraid to use any of the Radkins for fear they'll break before their starring role even commences. So I'm just whipping one up in a jiffy here to work the rust off my technique before filming begins. Think I'll also download a trial of Dragon to test out at the same time. But meanwhile, two things to post about -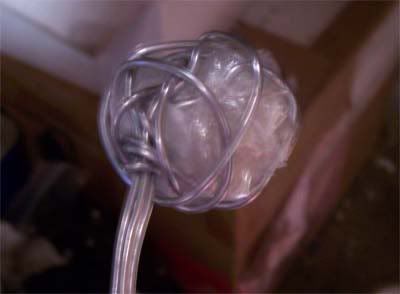 Here's my solution for making a hollow head, to reduce weight and save sculpting material. We've discussed it on the board, but had difficulty figuring out how to make it hollow or filled with a lightweight material and still not jiggle freely on the neck wires. I came up with this.... a spherical shell of wire stuffed with scrap plastic (could be anything.... styrofoam, foil, paper.... just make sure it won't react badly with your sculpting material... IE no styro or plastic for super sculpey cause it would melt in the oven etc). Then a thin shell of epoxy putty left rough to sculpt onto after it cures. Voila!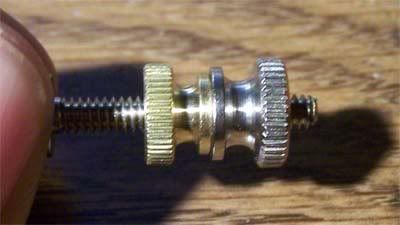 Also, here you see a pair of nuts. Thumb nuts to be exact, from www.smallparts.com. They make fantastic tie-downs. But I noticed as I was working tonight that I couldn't wrap two strands of wire into the channel in the brass ones. Strange... I know it worked on the REAL puppets! They all had nickel-plated thumb nuts though. Now I'm using the cheaper brass ones. Turns out they're actually smaller! Fancy that! (yes, I seem to be turning british)
As this pic shows, they're also quite a bit smaller in diameter. Something to keep in mind.... from here on out I'll get my nuts nickel-plated, thank you.
***
Added links for nickel-plated thumb screws and nuts at Smallparts to my ever-growing Resources section.