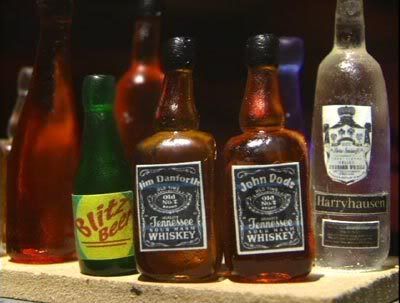 Man, that's tiny!!
I've never really done this kind of work before, especially at this tiny scale!!! But as I go I learn, and 2nd or 3rd generation comes out looking pretty good. That applies to the bottles
and
to the labels (the vodka label is obviously still under development).
I did discover how to get bubble-free castings without needing a vacuum chamber.... all it takes is stirring very slowly. I also learned to spray the bottles with clear coat before pouring up the silicone molds, and also to spray the castings the same way.... makes them come to life! I only wish I had smoothed down the sculpts with solvent before baking them... I had no clue there were fingerprints all over everything!!
Now I'm learning to steal - um, borrow - elements I find online to make the labels look official and snazzy - a coat of arms here, a graphic element there (in some cases a complete label, with only minor adjustments). The earlier labels are looking downright crap in comparison to the newer ones. Guess it's time to redesign them now! But it's all worthwhile - I'm learning valuable skillz.