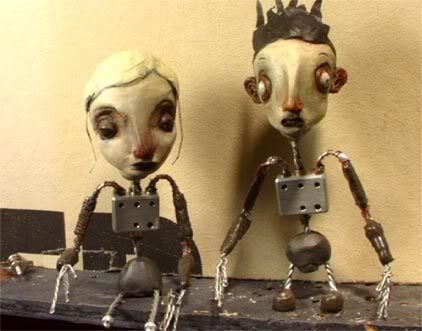 It's Betty and Hoppy. Betty doesn't need tiedowns in her feet because she'll remain seated throughout the entire performance, and Hoppy... well, he needs tie-downs all over because he likes to bounce off the walls and ceiling a lot. He's a bit wired.
This isn't my progress report for today, just wanted to post last night's work and put names to the faces. I think I'll make a new body for Hoppy.... I wanted the legs ridiculously short, but I think they're
too
short! Man, when I think about how painstaking this has been because of the aluminum chest blocks.... I could have made all these armatures in a few days if they were all simple one-piece designs, and I would have been able to more freely design them. I think in the future I'll go with much simpler armatures and use smaller nuts (regular hex nuts or square nuts) for the tie-downs. Or better yet just drill and tap some aluminum plates. And I wish I had used thinner nails for the bones. Those forearms especially get pretty thick in paces.... that's gonna be a bitch later.
Also, today I ordered some liquid latex from Monstermakers. After all my experimenting with the Dragonskin, I think I'm going to use latex buildup instead, because it's so much easier to paint. I also ordered a very interesting product I've never tried called
Latex Softening Agent
. Should be fun to play around with anyway.