Took a day off yesterday. Hey, I just noticed it was day 13.... maybe it's best I did! Tonight I'm making hands:
The idea of the thread wrapping is to help keep the hand bones from splaying out unnaturally. All too often I've seen puppets made by beginners that don't really have hands, just fingers sprouting directly from the wrist. Grotesque abominations! And while these puppets are a bit strange looking, I don't want them to be total mutants (even though they do only have three fingers and a thumb).
I could have just packed epoxy putty in for the body of the hand, but for that wo hold the fingers all together in a tight unit and not allow the pinky or forefinger to float out to the side, it needs to be extra fat around those areas. Hope that makes sense. This way I figure the thread will hold it from drifting, and allow me to make smaller epoxy blocks. As with the last post, I'll add to this one as I get more done throughout the night.
***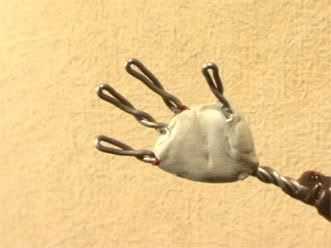 The hands on six puppets are epoxied now. I still need to figure out how I'm going to make hands for Tonic and Cindy Lou, but I won't be making them until after they're foamed and clothed. Man, this got scary! Extremely difficult work, and on one hqand the thread came untied and started unravelling as I worked. I just went ahead and puttied it all up anyway. Despite my efforts, most of the hands came out pretty thick and lumpy anyway. I might be able to file some of them down later though.