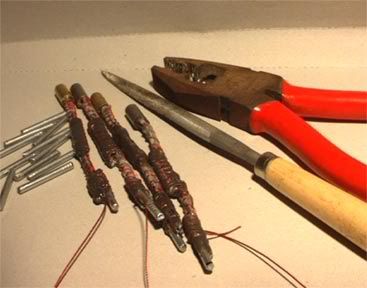 Alas, all I got done were 4 arms nearly to completion... still no hands. But I did cut and file my nails as you can see... and they were hard as steel! That was a huge job in itself considering I used only the tools you see here... should have busted out the Dremel! My hands still hurt.
The other 7 arms tomorrow complete witjh hands(day off... it's catchup time) - plus an explanation of my new production philosophy and a taste of my latest inspiration. Till then.......
Oh, and I changed the name of the race to reflect that our buddy Jeffrey of
Ubatuber Productions
has joined the race! He's working furiously on his entry for the upcoming round at StopMoShorts. Anybody else care to join in the marathon? Grant... Sven? It means posting daily (or nearly daily) progress reports till the bitter end.... 13 days from now.
Excuse time... I would have got the hands put on those arms, but an email came in announcing that Leevi had uploaded his newly completed film HarmoniCa to the bin at
StopMoShorts
, and I went in to post it for him (and of course I had to watch it!). Took the better part of half an hour. But wow, what a great film, even at the small resolution!