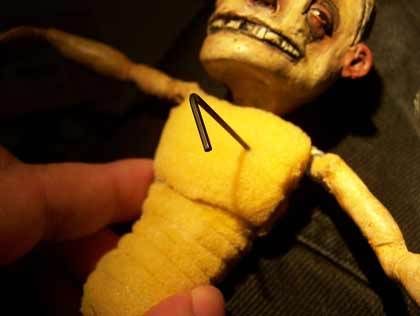 Well, at least I've been doing animation-related things each day! But now it's back to the film. Here's how I remove arms and heads from these guys. First, make a tiny hole with the tip of a nail, then sort of scrub the nail around a little in circles to make sure the hole goes all the way through the foam, and to open it up a little bit. Don't worry, it will close invisibly later. You need to make three holes, one positioned approximately over each set-screw. Now stick your allen key in. This isn't easy.... you need to move it around until it goes in the hex hole in the end of the screw. You won't be able to feel it at all. You just need to keep trying to turn the key until suddenly you'll feel a little resistance (meaning the screw is turning with it). Then you can pull the limb out. I removed Huck's arms and head in order to start making his shirt.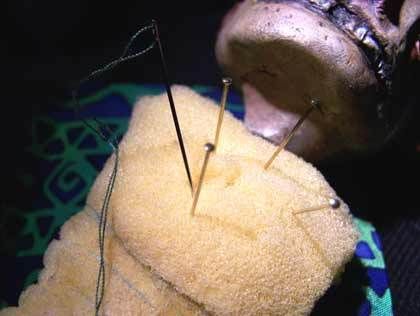 It's nice when your model is also your pincusion!
I'm going with this crazy batik print, sort-of-semi Hawaiian style. Just seems to fit his personality. He's pretty tacky.