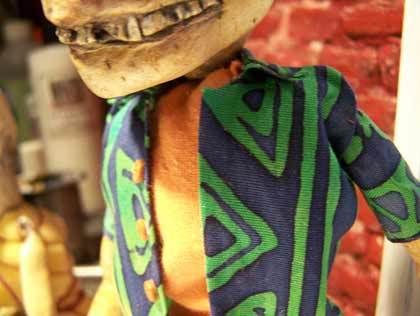 Man, I hate doing collars! As much work as the rest of the shirt, in a fiftieth the size! So much engineering... so many compound curves, edges that all need to be hemmed under somehow, and so tiny I can barely see it, much less get my bulky giant's fingers in to work with it! I swear I'll never again make a shirt with this kind of collar on it. This goes back to my idea of things that work well and things that don't.... why on earth should I struggle so hard to make something that doesn't look right anyway, puts all kinds of weird stresses on the already crappy looking shirt, and even if it did look good would only make everything look more 'normal'?!??!? From the neck down he's looking a bit like Malibu Ken's mutant cousin.
And the buttons!!!!! My god, they're so tiny they actually have no physical weight or mass! I couldn't pick them up, couldn't feel if I had one in my fingers or not, and once i finally did, I couldn't set it down! It stuck to my fingertips. Painting them was a nightmare. And still they look gigantic. From today forward I move progressively away from this cartoonfiied realism. There are ways to make puppet clothes that are at the same time much easier
and
look better, without ending up looking like doll clothes!
In the comments section of my last entry Sven mentioned the infamous "Muppet Stitch", that supposedly can be done from
outside
and look almost invisible. I've heard of it before, and decided to go in search of. I found this thread at Muppet Central:
Hensen Stitch
. What I gather is that there's no real magic stitch, it's more a matter of great skill on the part of the stitcher. I once downloaded a page with a bunch of diagrams for different stitches and tried to learn a few of them, but now I usually just use the most basic one... straight across, and try to keep the line nice and straight and the stitches uniform and at an even tension. It works fine, I don't see a need for anything fancier, unless of course I actually COULD do a stitch from outside to repair or finish something I can't get to anymore.
And finally, here's a clip Eric posted recently at StopMoShorts, a trailer for Wombok Forest that just totally blows me away:
Wombok Forest
. I can't get enough of this! It's got a perfect balance of realism with an almost cartoonish exaggeration, but without looking like a cartoon. Every element is perfectly done... all the details, the lighting, the way the puppet is dressed, and especially the animation. Bravo Miles and Julie, bravo!