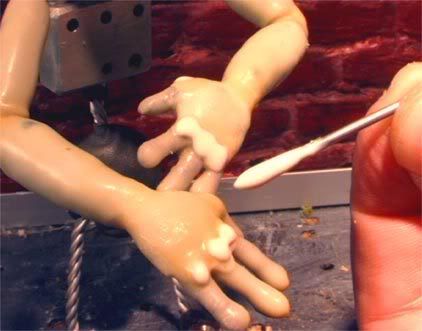 Here I am applying a nice drop of latex to Hoppy - or at least pretending like I am. Do you realize that, in all my pics of techniques, I'm never actually
doing
what I seem to be doing? That's right, when you're taking the pics yourself, you can't do it while also performing some difficult painstaking task, so I just wait till I'm done and then pose as if I'm still working. That's the way a lot of "in progress" shots are done, I guarantee you.
Anywhoo, you can see here how unpredictable this can get. Sometimes all the drops run together into a
uknicle
and sometimes they stay separate.
No, this isn't my apple head... it hasn't reached this advanced state just yet! I just happened to run across a place where you can get your very own authentic shrunken human head! Well, authentic
replica
that is, made from tanned animal hide by "indigenous artisans". Nice, but I think I'll stick with fruitmangling.