Ok first, at long last here's my ugly mug! Well, the way I looked about ten years ago anyway. This is from a period when I was using a lot of gouache paint and watercolor on bristol board. And if I remember right I did the detailing with pastels over that. This is an extreme close-up of
the full painting
which is on my Gallery page (all these are on my site as well). The face is actually the most successful part of the painting anyway... the rest has potential, but just isn't there yet. That can be said about most of my artwork actually (well, the stuff that actually DOES have potential).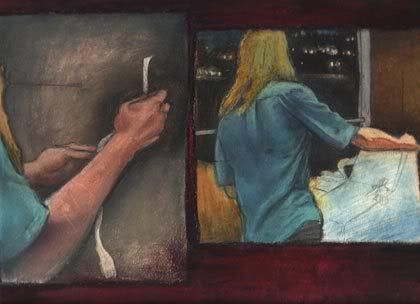 This was my girlfriend from around the same time. I snuck a camcorder in at work (where she was my manager!! Ackkk!) and shot her, then did these drawings from the freeze-frames. I was trying to develop my Kent Williams graphic novel style, and I like the approach I used on this. Drawn in pencil first, sealed with matte spray, then light coloring done with aquarelle pencils, over which I used oil pastels and - my two secret weapons - a very soft pencil (drawn right into the oil pastels... gives a much sharper edge and better control that a black oil pastel) and an electric eraser! That's how I did the distant lights and the strip of register paper, just erased the oil pastels.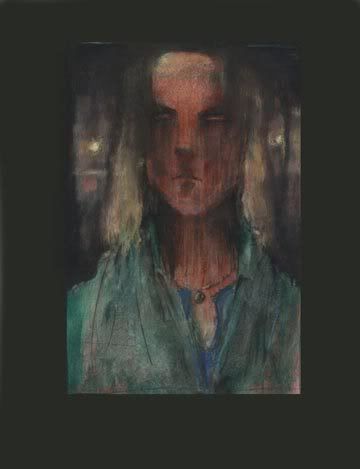 Her again, a really intense night! It was raining, she was crying, and standing outside the window like an apparition, seething with rage and grim determination. She did a lot of that kind of stuff actually. Done I believe with cake gouache paints, or else casiens.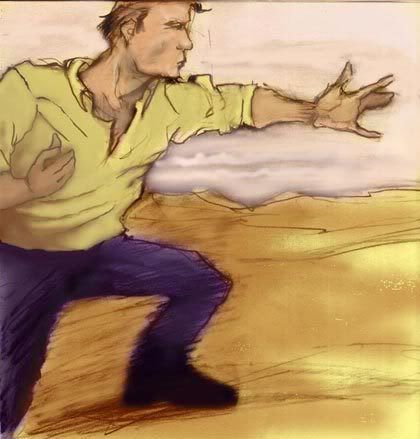 My Karate Guy was done immediately after getting home from seeing Mortal Kombat. Drawn in my sketchbook in pencil, then scanned in (years later) and colored in Photoshop. I messed up the whole left side of it and tried to re-draw it with a mouse... not good!
One incarnation of my main character from The Dreaming, originally named Lee Sunspot, then later changed to David Odessa.
Him again, from yet a different incarnation. The original pencils for this are on my site. This was colored in PS.
I don't know what the hell this is! One of the craziest, most surreal periods for me. I remember there was some artist i was into, but i don't recall his name. I didn't even know where I was going with these from one mark to the next... just let it all happen on the page.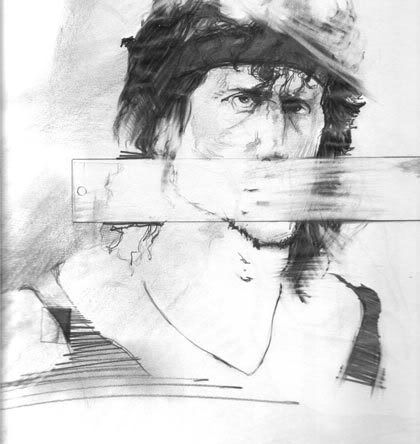 One of my Larry Rivers emulations. Rivers was an incredible draftsman, and he liked to do sketches and trhen attack them with the eraser and trace objects onto them. He made me realize than an erased line doesn't vanish... it always leaves a trace, which can be used as part of the drawing. It imparts a certain kind of almost ghostly energy.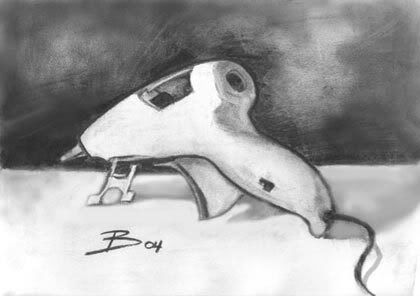 Wow, not sure why this one is so small. But if you download it you can blow it up several times (the the size I tried to make it) and it will still look good. Done in charcoal a couple of years ago, when i did a stint on
Conceptart.org
and really pushed myself to draw realistically. Drawing objects from life is completely different from inventing them or using photoreference.
A kind of crappy attempt to draw directly in photoshop in color, the idea being to sort of cut into colors with other colors and gradually define the forms. I could have pushed it a lot farther, but the basic proportions and composition wasn't very good. That's why I like to draw in pencil first, even if I'm going to scan it in and work on it in the computer.
Gnemnos the demon. Actually another head study done to try to understand the shapes under the skin.