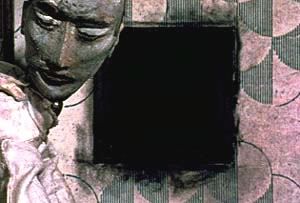 Wow, I'm so excited I can hardly contain myself!!! Just announced, coming to DVD (but ONLY IN PAL FORMAT!!)-----
The Quay Brothers - The Short Films 1979-2003

DISC ONE: FILMS

Twelve restored and remastered short films in Quay-supervised and approved native PAL transfers. All aspect ratios are as specified by the Quays, with anamorphic enhancement where necessary. This really will be as good as they've ever looked on a domestic format.

- The Cabinet of Jan Svankmajer (1984)
- This Unnameable Little Broom (1985)
- Street of Crocodiles (1986)
- Rehearsals for Extinct Anatomies (1988)
- Stille Nacht I: Dramolet (1988)
- The Comb (1990)
- Anamorphosis (1991)
- Stille Nacht II: Are We Still Married? (1992)
- Stille Nacht III: Tales From Vienna Woods (1992)
- Stille Nacht IV: Can't Go Wrong Without You (1993)
- In Absentia (2000)
- The Phantom Museum (2003)

plus
- Quay commentaries on This Unnameable Little Broom, Street of Crocodiles, Stille Nacht I, II and III, and In Absentia;
- Optional subtitles on commentaries and Anamorphosis

DISC TWO: FOOTNOTES

Around two hours of extras, including more shorts:

- 1990s BFI Distribution ident (designed by the Quays)
- Video introduction by the Quays (20 mins, recorded in May 2006 and copiously illustrated with clips and stills)
- Nocturna Artificialia (1979 - their debut film)
- The Calligrapher (1991 - unbroadcast BBC2 ident)
- The Summit (1995 - previously unreleased/unbroadcast live-action short)
- excerpt from Peter Greenaway's The Falls (1980) featuring the Quays
- archive interview (29 mins, recorded in February 2000 at the Paris Doll Museum)
- anamorphic 2.35:1 versions of Rehearsals for Extinct Anatomies and In Absentia
plus
optional HOH subtitles wherever necessary

Accompanying booklet features:
- Facsimile of original eight-page illustrated treatment for Street of Crocodiles (this accompanied their original funding application, and it's fascinating to compare it with the final film);
- A Quay Brothers Dictionary of people, places, themes and motifs (containing nearly sixty entries).
This is a PAL only release, region2 (I assume) DVD. I've pre-ordered mine through Amazon.co.uk, which expects to ship on October 30 (nice Halloween present to myself). Aren't our European brethren fortunate? And those of us who have the coveted All-Regions All-Systems DVD player!
Meanwhile, for those stuck in drab NTSC land, here's the trailer for the Quays' latest feature film,
Piano Tuner of the Earthquakes
.
And I've heard it really isn't as opaquely pretentious as the trailer makes it seem. But then, it IS a Quay film......
***
Ok, my old all-region all-format player has been going haywire on me.... it likes to freeze up at odd times, and it's getting to be way too frequent. There are little tricks I try to play on it... like cycling through all the slow motion forward and reverse speeds and back to play, which sometimes makes it start working again, or sometimes makes it skip ahead a chapter, or sometimes (more and more frequently) does nothing at all. But I couldn't take it anymore, especially with the incredible new Quay DVD coming in at the end of the month! So i broke down and ordered myself a new one from World Import. It only cost a cool $79... same as a regular player... and of course it can be used as a regular player too. Well, actually it IS a regular DVD player, but has the added capability to play ANY disc from anywhere in the world on a normal old American tv. Here's the model I ordered:
Toshiba SD-755 Code Free All Zone DVD Player
It's a mouthful, I know, but it will get the job done, and it's no harder to hook up than any other DVD player.
I highly reccomend to any readers who drooled at the features included in that Quay set to just click through on that link and get yourself one of these dream machines. If the only thing you ever use it for is watching those Qay discs, it'll be worth it! Right?And of course, it opens up the entire world of DVDs from around... well... the entire world!