It's time for those incredible Radke heads to grow some bodies. I decided to start with this guy, affectionately known as
Catatonic Drunk
- because he's one of the simplest. He'll be wearing long sleeves, so I don't need to make silicone arms. In fact, he'll be made very much like Buster (and is proportioned almost identically, except the head is bigger and the legs are shorter).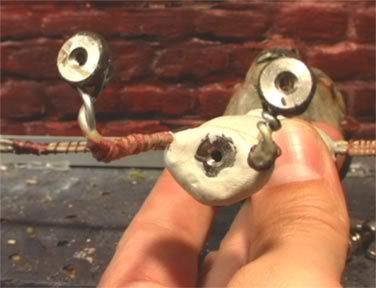 The armature is untwisted aluminum armature wire, wrapped with silk thread for strength (adhered with trusty Barge flexible contact cement), and the tie-downs are nickle-plated brass thumb nuts from Smallparts.com. I roughed up the channel with a file down to the brass to get a good bond with the JB Quickweld that's attaching them to the wire. Can you see the third tie-down? That's to secure him to his barstool... it's probably the only one he'll really use, because he pretty much lives on his stool. But I thought I'd give him the regulation foot tie-downs, just in case of an emergency (like if he needs to go pee in a dark corner or something). The legs are almost too weak to hold him up though... could have used one more wire. But I think he'll remain seated for the entire performance.
I hope Scott doesn't see this.... I can't believe I did it! I feel like I defaced the Mona Lisa or something! It was an experiment (which I
WON'T
be trying on any of the others!!)... see, Scott left these little neck-stubs on all the heads. I think that's generally the way a marionette head is articulated.... there's no joint at the base of the skull, just at the bottom of the neck. And of course I could just leave them, but I really wanted to make silicone necks for them and get full head movement! Stupid really - I should have left them exactly as he sculpted them. Bit I thought, just on this one head, I'd just
TRY
it.... how hard could it be right? Just carve away some of that paperclay and then make a silicone neck to cover the damage. But it turns out the heads are sculpted from something much harder than paperclay... it's rock hard! Must be epoxy putty. And of course, wouldn't you know it - I scratched him up in a couple places and nicked the neck wires! Damn!
Here's another damage shot. I can fix it. I'll rebuild the neck stub as closely as I can to the way it originally was, and try to match Scott's paint job. I can't believe I did this! Better to stick a rusty X-Acto knife in my calf.