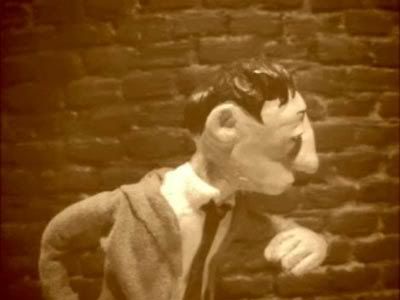 With the sound of music, natch! What else? I've been researching the music used in silent films, and generally it's Ragtime or ragtime-related. It was the age of Scott Joplin and Jelly Roll Morton, musicians who could wring incredible drama out of a piano. I really don't know, but my guess is that the music that came to be known as ragtime probably began in Vaudeville, to accompany the antics of the comedians onstage (which is where Buster Keaton got his start, as a child of 3 I believe, in his family's act). It isn't really what we currently think of as music.... a repetitive beat with melody and lead layered over it, always in the same time signature. It flows more organically, slowing down and speeding up and changing entirely to suit the action it accompanies (or just the imaginary movie in the player's head or whatever). It's uniquely suited for silent comedies, as so many of the sounds are perfect for different kinds of action. You can listen to certain passages with your eyes closed and automatically think of someone sneaking, or pouncing, or running.
Anywho, the point of this post is that I've added a musical track to Race the Wind. I also fiddled with the color a bit, I hated that pale washed-out purple color I ended up with when I uploaded it! The picture above is misleading.... it's from an even more recent 'cut', a sepia one where I really boosted the contrast because even in the improved (musically enhanced) version it still looks a bit washed-out. I kind of did a bash job on the editing of the clip to make it match the music better... a song I found called Dance of the Demons that already matched it unbelievably close, but parts just needed a little tweak to fit right. And somehow I chopped off the part where Buster jumps to his feet before he starts chasing the hat... but the point of the exercise is just to demonstrate the power of music in an animated clip. If you download the clip from StopMoShorts, it's encoded well enough to stand fullscreen viewing.
Now that I've had some time to reflect on this clip, and especially seeing it with the music, I see what I need to do in the future for these kinds of films. The smooth, floaty motion has got to go! I did that on purpose.... I wanted Buster's torso to float straight ahead, no bouncing up and down etc, just drift smoothly, while the arms and legs arc through their motions smoothly as well. It's obvious his feet aren't hitting the ground... that's also what I wanted. I was thinking about a certain kind of Starevitch effect here. But I don't like it so much now. The music really made me re-imagine the action, and it needs to be far more expressive... a performance based on pantomime. Stronger action, longer pauses, everything exaggerated. I suppose it was necessary to do this first though... it's my first run cycle after all. I think it's important to do the basic stuff beofre trying to get all performanc-y with it. But I think I want to reshoot the scene and build it into a short gag reel type of thing.
Here are a couple of the sites where I've been conducting my ragtime 'research' (if you can call listening to countless MIDI files research!):
Perfessor Bill
Ragtime Press
Exciting stuff... and one thing I really love is that apparently most American music written before 1922 is now in the Public Domain, meaning that as long as you can get ahold of the sheet music and find someone to perform it, then you can use it without legal issues.