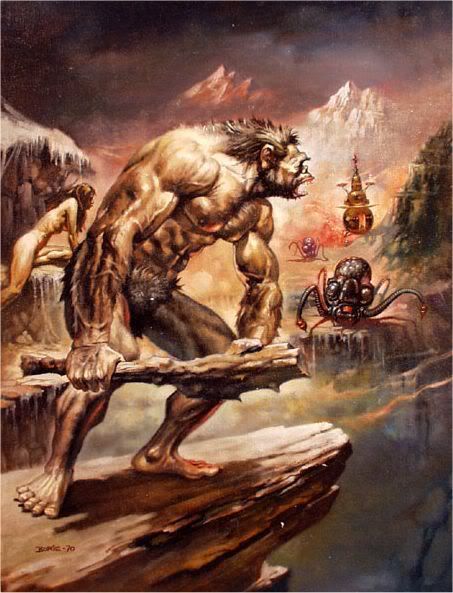 Interesting premise, huh? What the heck could it mean, you ask? And you say you've never seen that Frazetta painting before? Neither have I until I did a web search for Cro Magnon, but that's beside the point. The point is, what Im talking about today is movement. Well, and thought. Ok, it's going to be a bit of a ramble... been a while since I did one of those. So settle in and enjoy the ride, and maybe it'll spark off some ideas.
I want to start with a story from high school. It didn't happen to me, it was a friend of a friend, a guy named Joe. Joe knew karate... he was a black belt in fact, and a really nice, friendly guy. He was one of these guys that's like an ambassador..... totally cool to everybody he meets, and you just knew he was going places. Anyway, I heard that one day a bunch of guys were messing with him at school... you know, shoving him around, getting him riled, your basic garden variety bullying to get a fight started. The usual crowd gathered around, kids clamoring to see blood and hopefully some teeth flying. And these clowns were beating the crap out of Joe. Until somebody in the crowd shouted "Use your karate Joe!"... then it was all over in a few seconds, with predictable results. He pretty much mopped the floor with those neanderthal scumbuckets.
The point I get out of the story is that, even if they have a skill or some special knowledge, people don't always use it unless they're prompted. And sometimes even then. It takes a special effort to access the higher thinking center of the brain... left to its own devices the brain is pretty plodding and lazy. It's actually hard to believe how relatively rarely most people make that effort and get the wheels turning. I work at a restaraunt with a mix of people... some are high school kids, one is a senior citizen, and there are a few other adults like me - and age has nothing to do with it. Most of the time, most of these people just go about their routine without any creative thinking at all.... making stupid mistakes - the same ones over and over generally. And for most of them, if you point out the mistakes, they don't take the opportunity to learn from their mistakes and advance themselves, they'll just get mad and start spouting off a lot of F-bombs and threats... you know, "You don't know who you're f'ing with... you don't wanta f with me mother f'er! I'll f you up!" That kind of stuff... arrogance that they mistake for pride. It's rampant in today's society, especially among the young teenagers. It could be mostly just the area I live in though. On the other hand, if somebody points out something I did stupidly (or a few others in the place are the same way) I'll generally (not always... depends on my mood and the way they do it) thank them for helping me improve my performance. Heh... the other day I saw the stupid way somebody had laid all the sauce pouches on their sides stacked on top of each other so they all leaked out all over each other, and I turned to the guy next to me and said "This is the kind of thinking that wiped out the Neanderthals!"
It's like the conscious particles of dark matter in the His Dark Materials books that I raved about on the old blog.... you have to want to see them, or you won't.
And what is it I want to see now? It's a certain kind of movement, which was brought to my attention a few days ago by that awesome Bumble clip by Justin Rasch. Oh by the way, I uploaded another one by him to StopMoShorts:
Chew Em Up
. Not quite as coo as a rampaging cartoon monster shredding air with his claws, but the movement is just as breathtaking. I mentioned a certain acting exercise in that post where you ewnvision semi-visible trails being left behind every part of your body as you move through the space around you, making a sort of static kinetic image, like a long exposure photograph only 3 dimensional. It seems like that's the way Justin thinks. He said he "designed" the motion for that Bumble clip, which is a very revealing choice of words. You don't often hear people say that in stopmo, at least I haven't... I think it's more common among CGI or 2d animators, and it implies a planning out of how to combine movements into something aesthetically pleasing.
Let's say you have a puppet who has to perform some series of tasks.... maybe he walks in a room, sets down his briefcase, shrugs off his coat and then turns to answer the phone. It could be done as a bunch of separate moves, all unrelated - or you could combine them all into one smooth motion the way a dancer would do it. And in so doing, you could envision the arcs the various body parts will make through space. Rather than turn the torso and then lift the arm, he could do both at once, ad it would look better, assuming it's done smoothly and with decent arcs.
I suppose it's sort of like what Jackie Chan does... he's known for the way he moves, and not just athletically like David Belle and the Yamakasi... they ration every move down to it's essence so as not to waste any energy, portion it out and every ounce of energy is directed towards making the jump and planting the landing. On some moves there's an aesthetic element, but generally the reason we admire them is because of the sheer athleticism and the fact that they use the urban landscape as a playground, something we'd all love to do as we trudge through the turnstiles they leap over. But in the case of jackie Chan, he does it all with style and makes it look good, adding a comedic element and doing facial expressions along the way. But all that is sort of the frosting on the cake... mostly what he does (as far as I'm interested today) is design his actions so they work together and look good.
Ok, well I think I've said what I set out to say. I plan to start doing some animation and try to design this kind of motion, inspired by Justin's beautiful work.