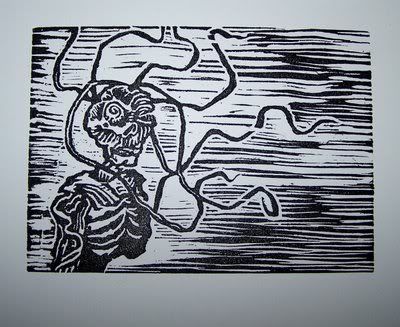 This lovely sea hag came crawling out of the muck wanting to swallow my soul. I told her to be patient, she needs to wait in line. Actually, it's a woodblock print made by
Jeffrey Roche
, one of a very limited edition he made up just for his blog bros and a few selected individuals. I got #2 of 12. Nice... a hand-signed print. I need to slap this puppy under some glass to keep it pristine. Very Ernst Ludwig Kirchner.
Meanwhile, in completely unrelated news, my Ahab T-shirt came in from
Zazzle.com
, only Ahab isn't on it! Strangely the logo showed up, even though it wasn't separate text, it was actually part of the image itself. So now I have a plain black T-shirt that has my blog addy on it, but no picture. Strange. It makes me wonder, what kind of quality control do they have over there, to let something like this slip through? Obviously there are people there at the printing facility... I'm sure it's not entirely automated. Somebody had to notice the picture didn't print, and yet they popped it in a bag and sent it on out. No explanation or anything, just as if nothing is wrong. Now, I know the whole dark T-shirt printing thing is in beta testing, and problems are to be expected, and quite possibly it's something I did wrong... I started with a jpeg image and converted it to a PNG (recommended file type). And possibly it would print up fne on a light T-shirt, or on the other merchandise. I need to contact their customer service department and see what they say. But meanwhile, I recommend nobody buy anything through the site until and unless I figure out what's wrong and see if it can be fixed. I couldn't find a way to delete the items I had created.