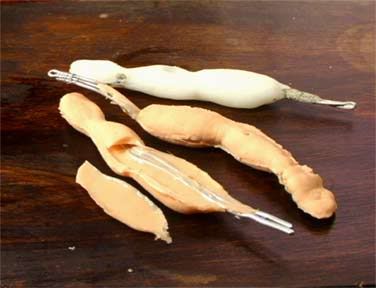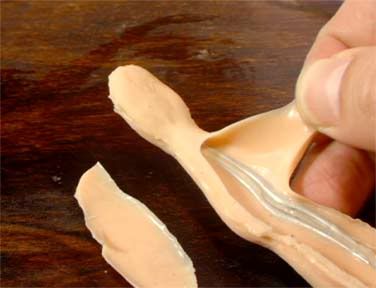 The words of Pat Zung are echoing insidiously through my head:
"I'm skeptical about pouring silicone in the two halves and shutting them. this works great for hard molds and foam but I think it may be difficult with silicone. You may end up with large air bubbles that will combine and make large unfilled cavities"
Wow, was he ever right! I've now poured 3 test arms, zeroing in my technique each time, and still I'm getting huge voids. The third one seemed like it should have worked.... and it might still be possible to
make
it work, possibly with some patching afterwards.... here's the method I devised:
I first mixed up a batch of Dragonskin with some flesh pigment in it, no softener yet. I use this thicker mix to coat the armature with... I found the softened silicone is so thin it just runs off. I think I'll even try to thicken it with some Cabosil or something next time. So, after coating the armature I then add my silicone fluid (I'm saving the Slacker for actual puppet production). Now I pour some into each mold half. One half is deeper than the other, and this is the key to my approach.... I wanted to avoid slopping liquid silicone when I flip half the mold onto the other half, so I completely fill the shallower mold, and only partially fill the deeper one. Now put both halves into the oven along with the armature and bake for a half hour. When I pull it out I lay the armature in the deeper half and pour silicone over it until it's flush with the top. I use the same batch of silicone for this... the stuff in the cup won't cure for at least 5 hours, so you get the exact same color and softness. Now you just flip the (already fully cured) shallower half onto the deeper one with the armature in it... no sloppy silicone to drip and run everywhere.
But you can see the results above. Not good. You'd need to actually overfill the deeper half a little to make this work, and I don't think you can do it. At least I'm getting tired of trying and failing. But a solution is at hand. It just so happens I found an injection gun in the trash at work!!!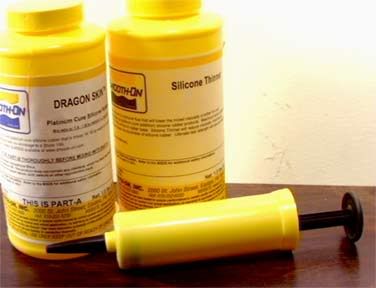 I have no idea what this was used for, and really I don't want to know, I just hope it doesn't have some chemical residue in it that will inhibit the Dragonskin. The really insane thing is, it's even the same color as the Smooth-On jars! Now that I've worked with the Dragonskin a bit and discovered it's just another silicone, it no longer seems like some mythical substance that requires wizardly powers to use, and I now feel like injection molds are entirely within my grasp. In fact, now that I think about it, I've actually used injection molds before... long ago in my childhood. I had a Creepy Crawlers set! I believe the actual Creepy Crawlers were just one-piece steel molds that you fill with the Plasti-Goop and cook to make little rubber insects and stuff, but there was somthing similar... seems like it was 2-piece molds for little soldiers or something, and you injected the rubber through a conical-tipped bottle into a hole in the mold. Hey, that makes it all seem so much easier... this won't be my first time!