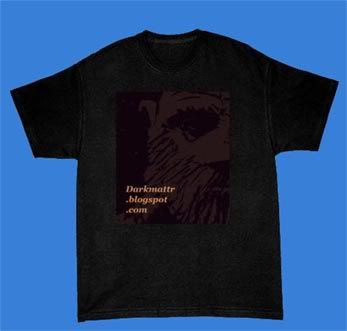 Hey all,
I just created a T-shirt design with Ahab's grinning mug on it over at a site called Zazzle... it's basically like Cafe Press, but where as CP just started offering black T-shirts in beta recently, Zazzle offers a few dark colors. I was hoping to find a nice burgundy shirt, so he'd feel at home, but no go. After trying him on all the dark colors I decided he looks best on the black after all. Oh well. *Actually, I just checked, and he looks pretty darn good on Navy Blue! Might have to get me another one!*
Here's the link to my store if anybody wants to get one:
Darkmatter Gallery at Zazzle
Now, let me explain.... don't think that by buying a shirt you're helping me out or anything. I'll make like 2.50 every time somebody gets one... no big dealio. I'm not doing this for money at all, I just thought it would be cool to have my own Ahab shirt, and thought some other peeps might like one too. So, if you want one, feel free (you can modify the design if you want... knock yourselves out if you feel the creative impulse). But don't do it if you're just wanting to help me out.
I'll be creating some more (less expensive) products in the near future too. I gotta have me a Ahab mug!
...And (hint hint) I sure would love to be able to get my own Nola shirt in basic black. Or maybe a nice big print.
***IMPORTANT NOTE!!! - I haven't yet recieved my 'artists proof' shirt, so until I do (in about a week) please don't order one! I'll give my full and unbiased report of how good the quality is when mine comes in. There are a few known issues with digital printing on dark garments, but i believe my design circumvents them. They mostly deal with white areas and gradients, which are nonexistant on my design.