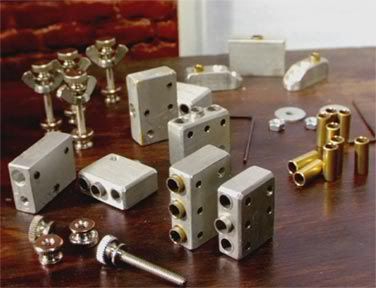 Here's what's going inside the puppets I'm getting ready to make. Most of the stuff above are components of Juergen Kling's
StopMo Tech
plug-in armature kits, that I bought from Animateclay.com. He recently re-tooled the blocks to be a little smaller, to fit in smaller puppets (like the ones I make). Right in front in the above pic you can see the older and newer chest blocks stood side by side for comparison. I had two of the original kits, and now I discovered Marc is selling the blocks individually for only 12.95 apiece, so I just bought 4 chest blocks. I figure those are the only parts I'll really need, since my design won't really allow for the pelvis block, and most of the puppets need to have tie-downs in their backsides for mounting to their barstools. I can't believe it, but I managed to pack all those parts into this one cannister!
In the top pic you can also see the
thumb screws
and
thumb nuts
I got from Smallparts.com to use for tie-downs. Nice!