I just added about 20 pounds of steel to my
grid
, in the form of extension pipes attached by galvanized elbows. Now I can hang lights a good deal lower than I could before, and farther off the edges of the set. I've been wanting to get some way of putting those edge lights way off in the backfield. You can also see my "early americana" plastic window drapes....
I also whipped up a quick prototype Gobo/flag holder. This is about as simple as it gets - just a
corner clamp
(used for gluing picture frames together or making mitered cuts), a piece of
3/16" aluminum armature wire
, and a small el-cheapo clamp. And I'm sure I could do without the corner clam (either clamp actually) if I bent the wire around the pipe sufficiently and taped the hell out of it!
I hope you can make out in this pic, the kind of corner clamp I have isn't deep enough to get a good solid grip on my 3/4" OD pipe - it only reaches the midpoint. Not secure at all! One slight nudge and it pops off, ruining the entire shot as well as my day.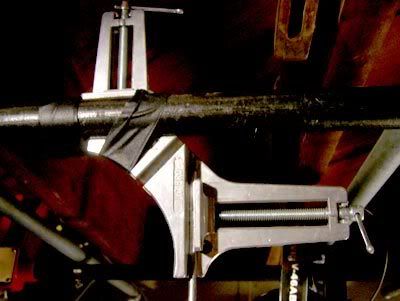 Once again, gaffer tape to the rescue!!! I'd like to see it pop off now!!!
Here's a detail shot of the other end. Look closely - I've hammered the end of the armature wire flat so it can nestle nicely into the clamp and hold a piece of cardboard or thin plywood or whatever material I end up making gobos from. I'll need to experiment - some materials might tend to warp under the intense heat from my new lights.