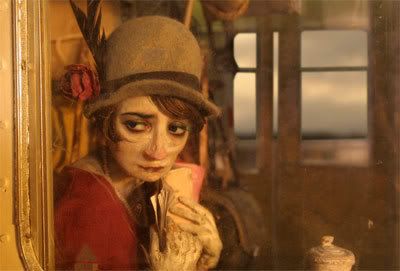 Madame Tutli-Putli @ NFB website
Ok folks, I don't know what's going on these days in the world of stopmotion, but a sea change is ahappenin'. Already we've had the incredible Peter and the Wolf by Suzie Templeton, and now there's the astonishing Madame Tutli-Putli by Chris Lavis and Maciek Szczerbowski of Clyde Henry Productions in Canada. These guys are basically fledgeling animators - or at least this is their first professional endeavor in the field. Previously they made posters and graphic art by taking pictures of their own bizarre collages featuring highly stylized sculptures of their own making along with found objects. In fact, very much like what Chris Sickels of
Red Nose Studios
does (this next picture reminds me very strongly of Chris' work, but more fully realized and detailed).
If you're unable to watch the videos on the NFB site, the same videos are also to be found, like everything sooner or later, on YouTube. I highly recommend watching all available videos including the behind the scenes material - I love hearing these guys talk about the creative process!!!
Every aspect of this film is groundbreaking and absolutely stunning to watch, but probably the most groundbreaking effect is the eyes. They're completely alive, like no animated eyes ever have been - in fact they're real human eyes composited in through computer magic to give unprecedented life and character to these puppets.
Well, I could go on and on, but I think it's best to let the videos speak for themselves - I've probably watched each one a dozen times already, and I'm still blown away every time! I can't wait for this one to come out on DVD!!!