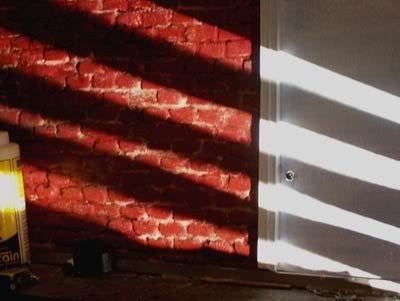 Nice
Film Noir
effect, huh? Accomplished with the help of my own personal
HOBO
(as seen below). See, Hobo is my acronym for Home-Brewed Gobo (pretty sweet, eh?). A Gobo, of course, is a focused studio light that projects an image onto the set - they're commonly used for stage shows etc, but are also very nice to have around a stopmo studio for effects like shuttered windows, branches casting shadows on the ground, etc.
For mine I just bought an old slide projector off ebay - something small and without the bulky carousel. Analog slide projectors are relics of the past now - phased out to make way for the shiny new digital projectors. But these things are stockpiled away in closets and attics all over the place, just waiting for you to snatch them up. Mine is an Argus AP200, a thing of beauty made in a time when looks counted. It's got this great sort of Art Deco look, kind of reminds me of the front of a train. It takes a 200 watt bulb (no longer manufactured, but can be sourced online at various sites that handle these kinds of things). It's pretty small, but weighs about 10 pounds... but fortunately it has a threaded hole in the bottom to go on a tripod. To create the Gobos you just have to place something opaque on a transparent slide of some sort that fits in the slide housing. I just cut some plastic from the front of a DVD case and stuck a few strips of gaffer tape on it for my admittedly rough shutter effect. A little online research reveals that blu-tac also works.
Another good alternative would be to get an Opaque Projector like the
Artograph Tracer
. There's a smaller, cheaper model called the Tracer Jr, which has a 3.5" x 3.5" platten for inserting artwork and takes a 75 watt household bulb, which might be good enough, but the regular Tracer takes a 100 watt bulb and allows artwork of 5.5" x 5.5". These would be much lighter than my heavy slide projector and allow you to draw line art using markers or something, doubtless a lot easier to create complex patterns than by cutting tiny pieces of tape to go on a slide!
I've decided to step up the lighting department in the Darkstudio - lighting is essential in creating a good visual effect. This is just one of the tools I'm creating for my arsenal - I'll be detailing more in future Lightmatters entries.