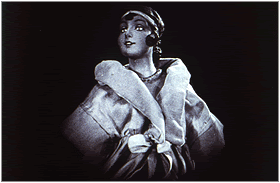 Ok, I'm not entirely sure exactly what this IS, but it looks really cool! I just learned about it in an email from longtime Darkmatters contributor Larry DeHaan, who ran across it and knows no more than what is printed on the web page:
DIE GROSSE LIEBE EINER KLEINEN TÄNZERIN
. The link goes to Googles translated version of a page at
Das Deutsche Filminstitut
, which is fairly mangled english, but somewhat understandable.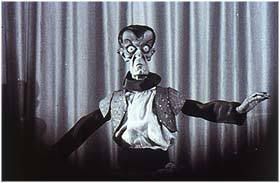 Looks really cool! My guess is it's a marionette film that's apparently based on the look of The Cabinet of Dr. Caligari, called Large Love of a Small Dancer. The puppets and sets have a great expressionist look. If any of my readers have access to a 35MM projector, there's a link at the bottom of the Filminstitute page where you can rent a print. If anybody does, I'd love to hear more about it.