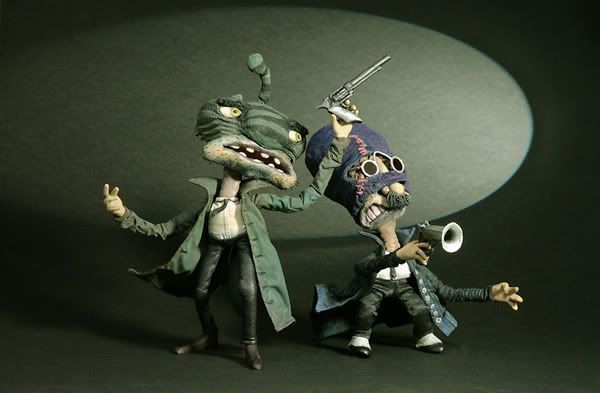 These pics are of puppets from The Great Sneezer (Velky Kychac), directed by Noro Drziak. You can see a clip from it on my
Video Clips Page
at my Darkstrider.net site. Scroll down a ways, you'll find it next to a couple of clips from Jan Bubenicek's Pirat, which is also included in the exhibit I believe.
Following is a quote from the
Czech Center New York website
about it:

New Generation of Czech Animation
January 20–February 5
Opening: January 20, 6:30 pm

Czech Center New York at the Bohemian
321 East 73rd Street, NYC

Exhibition of works of Czech film directors, artists and animators. Michal Žabka, Václav Švankmajer, Noro Držiak, Jan Bubeníček and David Súkup are graduates of the Film and TV School of the Academy of the Performing Arts in Prague (FAMU), whose films were awarded in prestigious international film festivals. The exhibition includes marionettes, costumes, stage properties, designs, and a retrospective of their films.

Film screening at the exhibition opening at 7:30 pm.

The films I mentioned above, as well as other fantastic ones also made in many cases (if not all?) by students of FAMU can be found (in R2 unfortunately, last I checked) on the Nova Generace, Ceska Animace series of DVDs. My favorite place to buy international puppetfilm these days is through HMV Japan, which carries all 3 volumes of the series:

Nova Generace, Ceske Animace

Vol. 1

Vol. 2

Vol. 3

For information on buying DVDs from foreign sites like HMV or Amazon Japan or Bontonland, and on getting ahold of an all-regions, all-systems DVD player (which cost the same as a regular DVD player by the way) check the left sidebar on
the Masters page of my site
.
Special bonus!!!! Here's a PDF file of the
Exhibition Catalogue
!!!! Right-click and Save As. Enjoy!!! This is really incredible info to anyone interested in Czech and Slovak animation, especially the newer stuff!