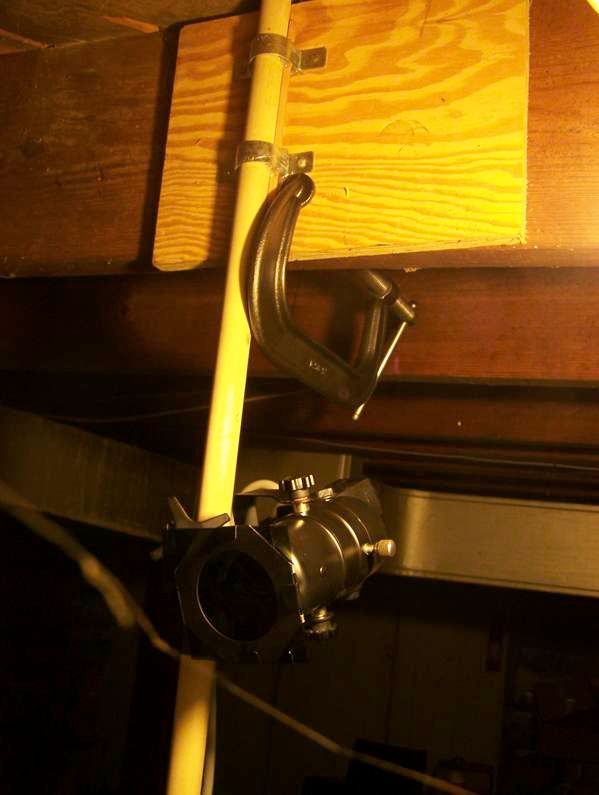 I've been running into some frustrating limitations in my lighting grid.... lights can only be directly over the table or a couple of feet in front of it. I wanted to be able to get lights lower, and to position them farther from the table in any direction. So I got a few accessories from the hardware store and rigged up a pair of these nifty ceiling-mounted light posts.
A 4 foot length of hardwood dowel, a couple of pipe clips, and some big hefty C clamps is all it took. I can clamp the posts wherever I want to the ceiling joists (incidentally, the clamps ensure that I don't permanently mar the joists). I always have to laugh at sizing conventions in the hardware world... a 1" diameter dowel fits into a 1" diameter hose clip with about 1/4" of clearance all the way around. I had to jam pieces of wood into the gap and fill the chinks with hotglue. But I guess the pipe clips weren't made to fit real snug anyway. Oh well, it works.
The other day as I was setting up for one of the Skulkin animation sessions I was struck by a thought....
The stopmotion studio is all one machine. All of it... every part.... the table with the holes drilled in it, the little puppets that can be secured to it, the lighting grid, the camera positioning apparatus, the camera and the capture device (computer, software). It's all made to work together in perfect harmony, like clockwork with you as the operator - nothing moving or changing until you want it to.
The really cool part is when I get the puppets set up and get ready to do a shot.... I position and plug in the set lights I'll be using one by one, and then switch off the normal overhead light. This process is a gradual transition from the ordinary basement surroundings into the Stopmotion World. Now only the set is lit, and it takes on a special look... far more attractive than under ordinary household lighting. The mess that is the rest of my basement fades into darkness behind me, and now my attention is focused completely on those little puppets that I labored so hard to make, and will now labor to bring to life.
Welcome to the Stopmotion World!!!
In fact, now that I think about it, you could extend the machine metaphor to include the shelves full of books that feed my knowledgebase... the DVDs and tapes that provide invaluable inspiration... even the computer that connects me to the internet... to other animators and friends all around the world. Wow... it means my machine is connected to Shelleys, and Svens, and Jeffreys... and to YOURS if you're a stopmoe!!! Insprirational!!!!