The table is finished and moved into its new home. Things are a bit crowded right now, cords all tangled on my computer table till I get it all sorted out.
Pan left to see my freshly refurbished media center (complete with Jimmy Stewart on the
new/used saved-from-being-thrown-away mega-bigscreen freebie TV
!)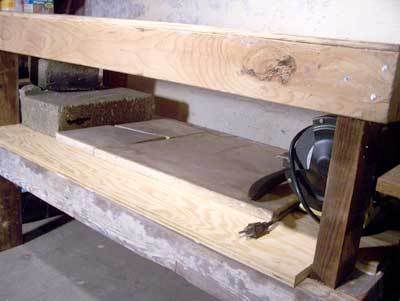 Here's a closeup view under the table. Following
Brother LIO's
lead of hanging some ultra-heavy weight under his table to weigh it down in case of those accidental bumps, I've put a broken slab of marble, a few blocks of stone and concrete, and a grinder on the shelf. It's pretty hard to budge the darn thing now!!!