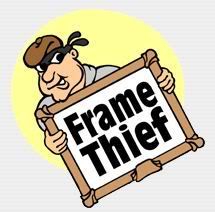 Just wanted to pop in and say that I've at least solved my Framethief woes. No other framegrabber for the Mac works nearly as well, as far as I'm concerned. Not sure what will happen when everything is all Intel Macs, and Framethief doesn't work anymore. Guess I need to keep this raggedy old computer just as a relic that runs Framethief!
Aywho, the way it got fixed was simple as pie. Somebody had mentioned either here on at the message board that they had a similar problem and fixed it by downloading the latest version of Quicktime. Well, I already had the latest, so that wasn't an option. But a few days ago I got the old System Update popup window saying there was a new version, so I DL'ed it and immediately checked. Voila! Instant connection!
So pretty soon I'll be doing some animation tests and blowing off the dust of ages, mauybe post a few things to the Puppet Exercises section over at StopMoSjorts - hey, it looks like everybody is having a lot of fun in there!
But I'm still having some computer issues, so I'm not back to full strength. It has been nice though to experience 'real time life' for a while! I'm getting the basement all cleaned up, and when that herculean task is complete, I build myself an animation table - then it's back to it! But for now this is just an extra post to spread the news about Framethief. Anybody else who might be experiencing similar problems, just get on the new QT.