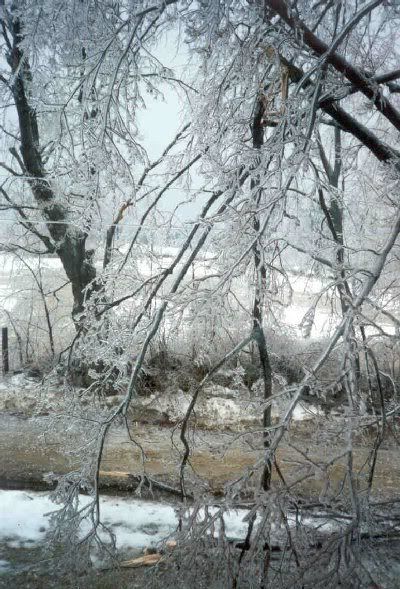 I didn't take these pictures, I scavenged them online, but they give a good idea of what it's like here. Why don't ice storms get cool names like hurricanes? Everybody remembers legendary storms like Katrina, but in years to come who will remember "The midwest ice storm of '06"?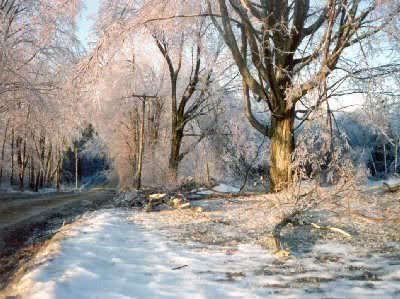 Let me start by saying that for the last month it's been unseasonably warm to say the least. 70 degrees every day in late November! Then came the warnings, which somehow fell woefully short of really describing the danger that was about to strike - there was a big cold front moving in that was to be preceded by a lot of rain, which would freeze and be followed up by sleet and freezing rain, onto which 6 to 9 inches of snow would fall. Ok, sounds like pretty typical midwest winter to me! I wasn't all that worried really (like most people I think). We've had ice storms quite a bit in the past, but I don't remember anything like
this
!!! (except way back in 1980 or so... way back when)
It began innocently enough, and yeah, the streets were slippery as all hell, but really nothing out of the ordinary, until I heard the first tree come crashing down right across the street! It takes surprisingly little ice to bring down a tree, or a major chunk of one. When you stop and think about the design of a tree it's easy to see why - all those tiny little branches out at the tips present a massive amount of surface area - like cilia or something. The pines suffered the worst because all the needles offer even more surface area for ice to collect on.
It's a spectacularly beautiful disaster - the world becomes a crystalline fairytale palace; a winter wonderland - but a wonderland frought with danger and destruction. It begins like this - first the power goes out. Maybe it comes back on and then goes out again a few times (happened three or four times here). Then it goes out and stays out. The house becomes preternaturally silent and you can hear every sound from outside. After a while you begin to hear the trees crashing down all around - and my house is built right at the edge of the woods - in fact, the house is completely surrounded by trees three to four times the height of a two-story house, leaning over it ominously. These forest giants also lean over the power lines and meet each other across the streets in most places, making for a nice tunnel-like appearance. That means when they come down they can smash through roofs, walls or windows, onto cars, or bring power lines and telephone lines down. So you find yourself sitting in a dark house getting gradually colder and colder, hearing the world crash down all around. Then the transformers start exploding. Meanwhile of course cars are sliding off roads and crashing into each other all around.
This is actually post-tornado imagery, but it shows a scene remarkably like the one directly across the street from my house (or rather what it would look like without everything being liberally coated with ice and snow). The neighbors have three gigantic pines that stand like massive columns in front of their house. The middle one now literally resembles a telephone pole (but three times taller) - the top of it came down and stripped away all the branches. An hour or so later the one next to their driveway broke in half. Fortunately it just misseed the three trucks in the driveway, but it brought their telephone/power lines down to about four feet above ground level. They're slanted enough so cars can get through if they stay far enough to one side of the road, but that's only if they SEE the downed lines first.
I called the power company to report the downed lines, but I got a recording saying there were too many calls to respond to and that thousands of people were now without power. I thought about making some kind of makeshift barricade to place there, but the neighbors parked a truck on each side of the lines. Problem solved.
I was one of the lucky ones - I have a gas fireplace so the house had heat through the whole ordeal. And after a few hours I moved the stuff from the fridge/freezer out to the garage, non-frozen goods in an ice chest so it wouldn't freeze up. Many people in the area had no heat at all. After a while I got out the emergency radio (has a hand crank or takes batteries) and listened to reports of the disaster and tips on survival. It's weird the kind of stuff you'll hear on these things - putting anti-freeze in the toilets etc! Crews were out the whole time of course trying to repair all the downed lines, but it was difficult and dangerous work, I can only imagine what it's like to have to cut a massive tree with live power lines trapped under it. And of course more trees coming down all the time, sometimes right on top of them!
After the ice had stopped building up I decided to take a little stroll around the yard and assess the damage. The moon was just shy of full, and all the snow and ice diffused the light so there was plenty of illumination - sort of a grey ghostly half-light that seemed to have no single source. The kind of light farmers work by all night during Harvest Moon. So I layered up and grabbed a pruning saw and started in on cutting up all the downed trees/branches around the yard. That's when I came to realize just how heavy all that ice can be - and that it's out toward the branch-ends that it's the heaviest. Branches I can normally toss out into the woods no problem I couldn't even lift! I had to cut them into bite-sized chunks first.
But this morning, after two days of blackout, I heard a chainsaw buzzing and screeching up on Sherwood Forest, where a really big tree had taken down the lines, and I figured that meant the crew was at work and power would soon be restored. Sure enough, in about half an hour, the lights came back on and I was plunged back into the normal world I usually take for granted, where I have stereo, lights, microwaves, a hundred channels of crap on the TV..... and my trusty Macintosh! I'm not sure which world is better.